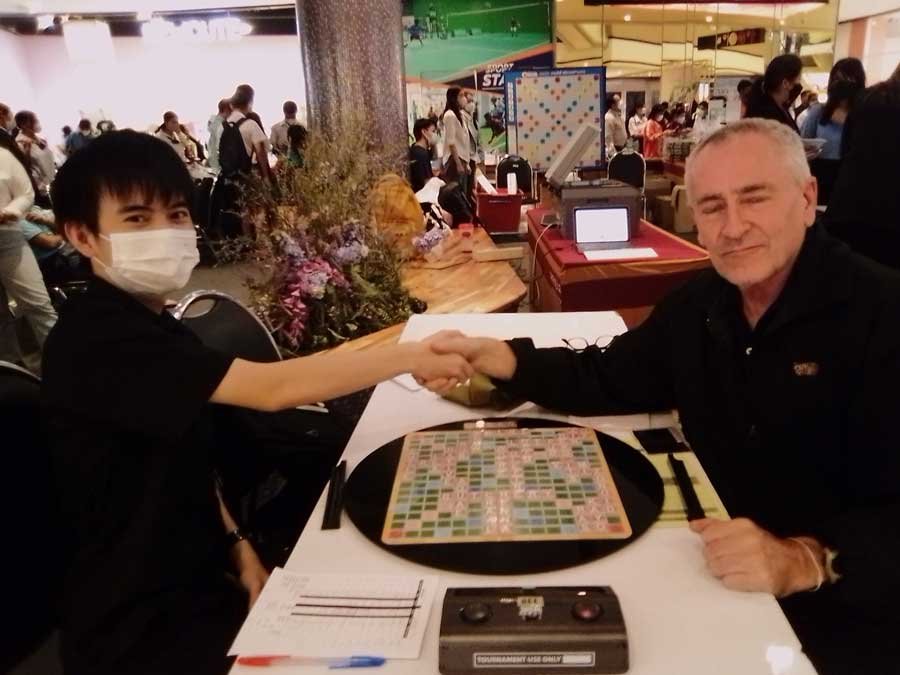 ASEAN NOW's Saturday columnist Rooster won the north eastern Scrabble championships Open Division held at the weekend in Central Plaza, Korat.
Rooster, real name Gerry Carter, 61, who was originally from England, has played Scrabble for more than 30 years in Thailand where standards among the Thai players are some of the highest in the world.
Rooster won nine out of twelve games in the preliminaries before beating Chiang Mai University Faculty of Medicine graduate Nuti 2-0 in a two game final round.
In the first game he managed to score 50 point bonuses with DENTATE, MARLINE and DECRIER to win 454 – 388.
He didn't look back after playing OLEFINE and DEPOSITS in the second rubber though Nuti made a spirited match of the final by playing BUTCHERY around CHE already on the board for 72 points. This play is known as a double-double or four timer.
The score in Game Two was 421-352 to the Englishman who bettered his own record as the oldest winner of a Scrabble tournament in Thailand.
"That was my third NE title in about 30 tries," said Rooster. "The Thais are brilliant players and I needed to ride my luck a little".
Thousands of mostly Thai schoolchildren played Scrabble, called Crossword Game in the kingdom, as well as Sudoku, Kham Khom (Thai Scrabble), A-Math (an equations game) as well as many other quizzes and games.
The next tournament in Thailand will be on the weekend of March 18/19 in Rama 3 in Bangkok. Contact Eduploys on Facebook if you would like to take part.
(Source: – Asean Now)