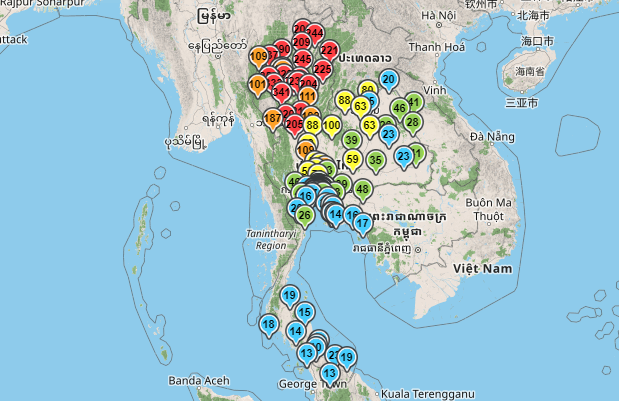 by Paul Rujopakarn
The Pollution Control Department (PCD) has indicated that the northern region of Thailand is expected to experience air pollution levels exceeding safety limits, and will remain under close surveillance until February 19.
Recent readings from the Center for Air Pollution Mitigation (CAPM) found unhealthy levels of PM2.5 across 24 provinces, including the capital Bangkok, Chiang Rai, Sukhothai, Khon Kaen and Chaiyaphum.
The PCD's air quality and noise pollution control unit has warned that haze conditions in the north will likely persist over the next four days. It added that the agency will continue to monitor the situation closely until Sunday (19 Feb).
Nonetheless, the unit assured that Bangkok's air quality will likely improve today and tomorrow, due to southern gusts and heavy rain that are expected to disperse particulate matter throughout the vicinity. However, it warned that air quality could deteriorate again from Friday onwards.
Residents in areas with high amounts of accumulated airborne dust are urged to refrain from outdoor activities or to use personal protective equipment if possible. Those who exhibit any pollution-related health symptoms should consult a doctor.
Members of the public can meanwhile read the latest air pollution reports from across the Kingdom and in Bangkok from the websites "Air4Thai.com" and "airbkk.com", which are also available in the mobile app format.
(Source: – NNT)