A new data report reveals some fascinating trends amongInternet users in Thailand in 2023, including which websites are visited the most.
'Digital 2023: Thailand' reports data, insights, and trends revealing how people in Thailand use digital devices and services.
At the start of 2023, there were 61.21 million Internet users in Thailand. Thailand's total population was recorded at 71.75 million last month.
In Thailand, 53.2% of people live in urban areas, while 46.8% live in rural areas.
Thailand is home to 52.25 million social media users in January 2023, equating to 72.8% of the population. However, social media users may not represent unique individuals.
Of the 70 million+ people in Thailand, 48.10 million use Facebook, according to Meta's data.
YouTube had 43.90 million users in Thailand in January, increasing by 1.1 million since early 2022.
Instagram had 17.35 million users in Thailand this year, according to Meta.
TikTok has 40.28 million users aged over 18 years old in 2023.
LinkedIn has 4.10 million users in Thailand and Snapchat has 525,000 users.
Twitter has 14.60 million users in Thailand, far fewer than Facebook, YouTube, and TikTok.
According to the report, 85.3% of people in Thailand can access the Internet, 100% have access to electricity, 100% have access to basic drinking water, 98.7% have access to basic sanitation, and 0.7% earn less than US$3.65 per day.
People in Thailand spend a whopping eight hours and six minutes on the Internet per day across all devices: five hours and five minutes on their mobile phones, and three hours and one minute on computers and tablets.
That's 62.8% of the day spent on the Internet.
According to the report, the primary reasons why users 16 – 64 years old use the Internet are…
Finding information (64.9%)
Keeping up-to-date with news and events (58.1%)
Watching videos, TV, or movies (54.8%)
Finding new ideas or inspiration (54.4%)
Researching how to do things (50.6%)
Accessing and listening to music (50.1%)
Staying in touch with family and friends (48%)
Gaming (45.1%)
Filling up spare time (43.6%)
Researching products and brands (40.7%)
researching health issues and healthcare products (37.7%)
Managing finances and savings (36.9%)
Business-related research (33.6%)
Sharing your opinion (33%)
Meeting new people and making new connections (32.9%)
The most visited websites in Thailand in 2023 are: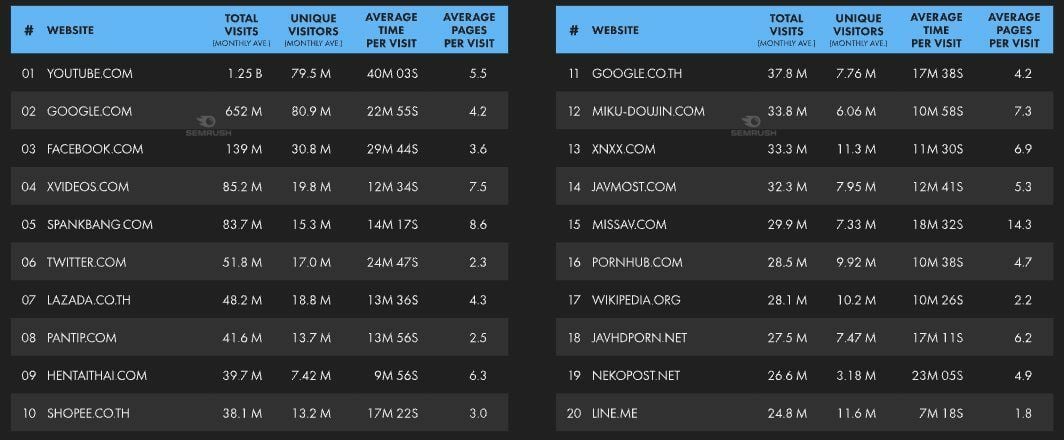 (Source: – The Thaiger)