The chief of the Royal Thai police has demanded that checkpoints throughout Thailand are run transparently and for the good of the public.
Not the enrichment of police in extortion scams. It's the latest reaction to the damning Taiwanese actress extortion case that has opened a can of worms that are wriggling everywhere.
Through his spokesman Pol Maj-Gen Achayon Kraithong, chief Pol Gen Damrongsak Kittipraphat has demanded that all officers wear bodycam devices at checkpoints.
No bodycams, no checkpoint was made clear in an infographic.
All officers must be in uniform and civilian attire is expressly forbidden.
However there are get out clauses for this when it comes to certain drugs cases. The word 'important' was used, not 'expressly forbidden'.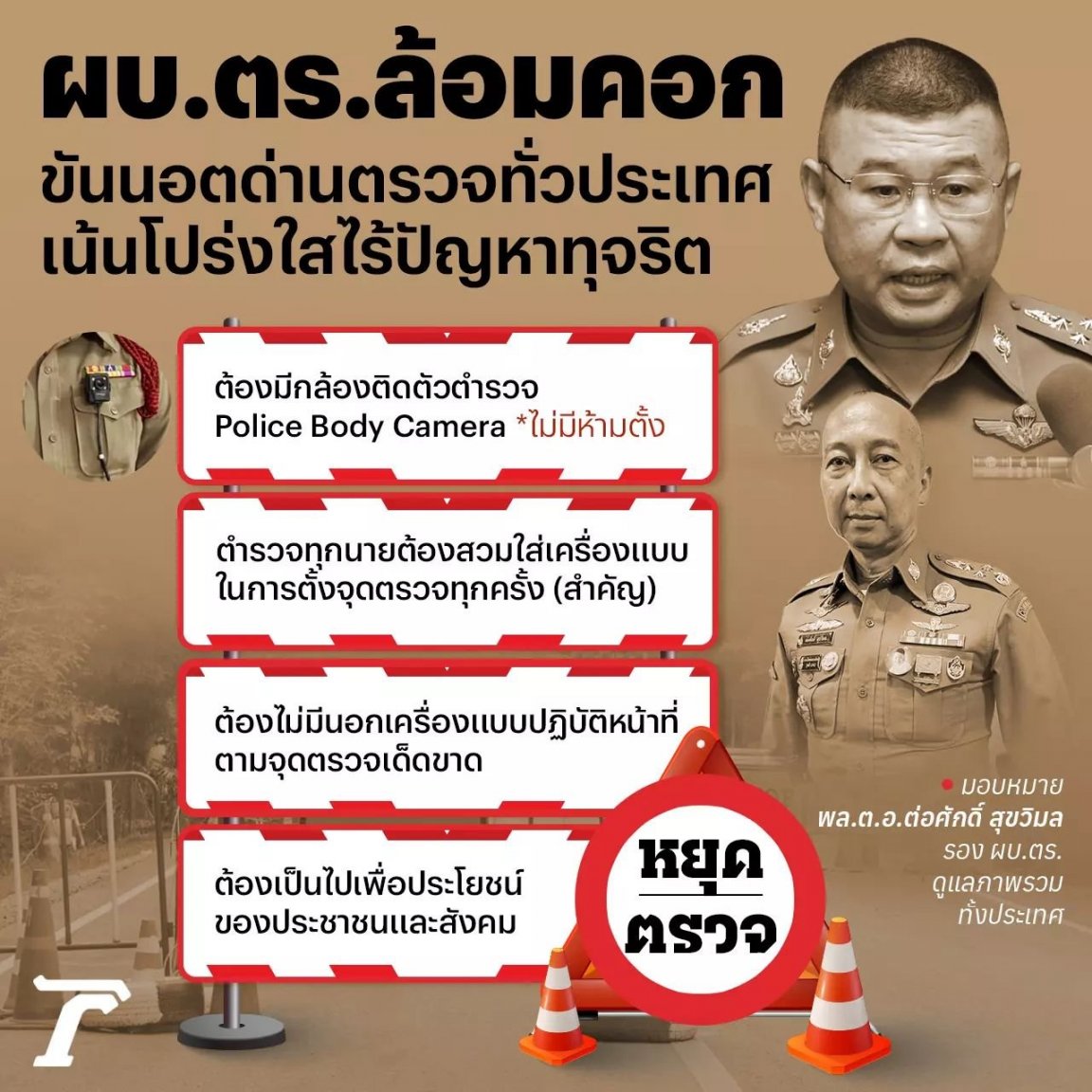 Picture: Thai Rath
Deputy Pol Gen Torsak Sukhwimon has been put in charge of the checkpoint improvements.
Damrongsak has said that all checkpoints must be in place for the good of the public.
Thai Rath used the term "close the pen" in their report several times. This refers to taking action but is also strongly linked to the term "shutting the stable door after the horse has bolted" in English.
Strict rules were introduced for police checkpoints under the command of previous chief Pol Gen Suwat Chaengyodsuk.
Amid much fanfare in the Thong Lor area of Bangkok during the pandemic it was demanded at a PR event that officers wear body cams and have CCTV survelling the whole of the checkpoint area that had to be brightly lit with clear signage.
Every checkpoint had to be signed off by a senior commander.
This clearly has not suited the activities of police engaged in what whistleblower Chuwit Kamolwisit has called an organized racket.
ASEAN NOW notes that Damrongsak's commands may see fewer checkpoints nationwide for a while. They may even be more transparently manned.
But the question will remain – will this just be a temporary move to paper over the cracks.
Before things get back to normal.
Most Thai observers will say that is a given. The subject of corruption in the RTP has parallels with Italian authorities' efforts to rein in their mafia.
Meanwhile, Achayon said that the chief was fully apprized of Chuwit's allegations of corruption in the Metropolitan Police and Traffic Police in the Thai capital.
In standard rhetoric a full investigation was promised.
(Source: – Thai Rath)