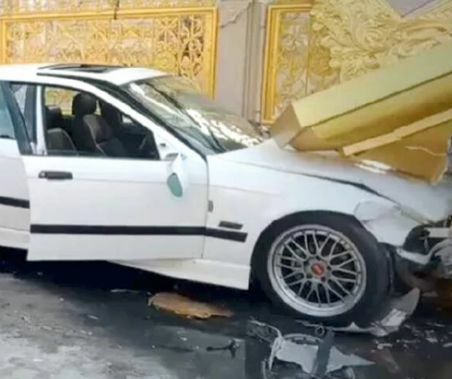 Thailand's annual New Year holiday road carnage has seen 85 deaths in two days, but there were mixed blessings in a Bangkok temple, as a meritless BMW added to the grim statistics.
The road safety campaign will go on until January 4.
On Saturday, 366 road accidents were reported, 35% caused by speeding and 26% by drunk driving, with 42% on highways and 34% on rural roads. Motorcycles were involved in 79% of the accidents.
The north-eastern province of Sakhon Nakhon saw 18 accidents, while Pathum Thani saw four deaths, the most of all provinces. Nakhon Si Thammarat recorded the highest number of injuries.  Only 31 out of 77 provinces have not recorded a fatality yet.
While drunkenness and incompetence are the cause of most of Thailand's holiday road carnage, being overly devoted to one's religious duties can also lead to trouble. A Bangkok BMW owner accidentally rammed three vehicles inside a temple in Bangkok while he was on his way to seek the abbot's blessing for his new "Beamer." The act of god took place at Wat Sarod in Bangkok's Rat Burana district on Saturday morning.
The driver, identified as "Chatchai," told police that he bought the car the day before and was visiting the temple to seek the abbot's blessing. When he stopped to ask for directions to the abbot's room, the vehicle's brakes "malfunctioned." As he steered the vehicle away from people, he crashed into a pickup truck and two sedans, before finally grinding to a halt against an altar near the entrance to the hall.
"Luckily, the car didn't crash into the hall, or things would have been much worse," Chatchai said.
(Source: – The Thaiger)